Product Summary
The TL507CP is a low-cost single-slope analog-todigital converter designed to convert analog inputvoltages between 0.25 VCC1 and 0.75 VCC1 into a pulse-width-modulated output code. The TL507CP contains a 7-bit synchronous counter, a binary weighted resistor ladder network, an operational amplifier, two comparators, a buffer amplifier, an internal regulator, and necessary logic circuitry. Integrated-injection logic (I2L) technology of the TL507CP makes it possible to offer this complex circuit at low cost in a small dual-in-line 8-pin package. In continuous operation of the TL507CP , conversion speeds of up to 1000 conversions per second are possible. The TL507CP requires external signals for CLK, RESET, and ENABLE. Versatility and simplicity of operation, coupled with low cost, makes this converter especially useful for a wide variety of applications.
Parametrics
TL507CP absolute maximum ratings: (1)Supply voltage, VCC1: 6.5 V; (2)Supply voltage, VCC2: 20 V; (3)Input voltage at analog input: 6.5 V; (4)Input voltage at ENABLE, CLK, and RESET: 20 V; (5)On-state output voltage: 6 V; (6)Off-state output voltage: 20 V; (7)Continuous total dissipation at (or below) 25℃ free-air temperature: 1000 mW; (8)Operating free-air temperature range: 0 to 70℃; (9)Storage temperature range: –65℃ to 150℃; (10)Lead temperature 1,6 mm (1/16 inch) from case for 10 seconds: 260℃.
Features
TL507CP features: (1)Low Cost; (2)7-Bit Resolution; (3)Montonicity Over Entire A/D Conversion Range; (4)Ratiometric Conversion; (5)Conversion Speed. Approximately 1 ms; (6)Single-Supply Operation: Either Unregulated 8-V to 18-V(VCC2 Input) or Regulated 3.5-V to 6-V (VCC1 Input); (7)I2L Technology; (8)Power Consumption at 5 V. 25 mW Typ; (9)Regulated 5.5-V Output (31 mA).

Diagrams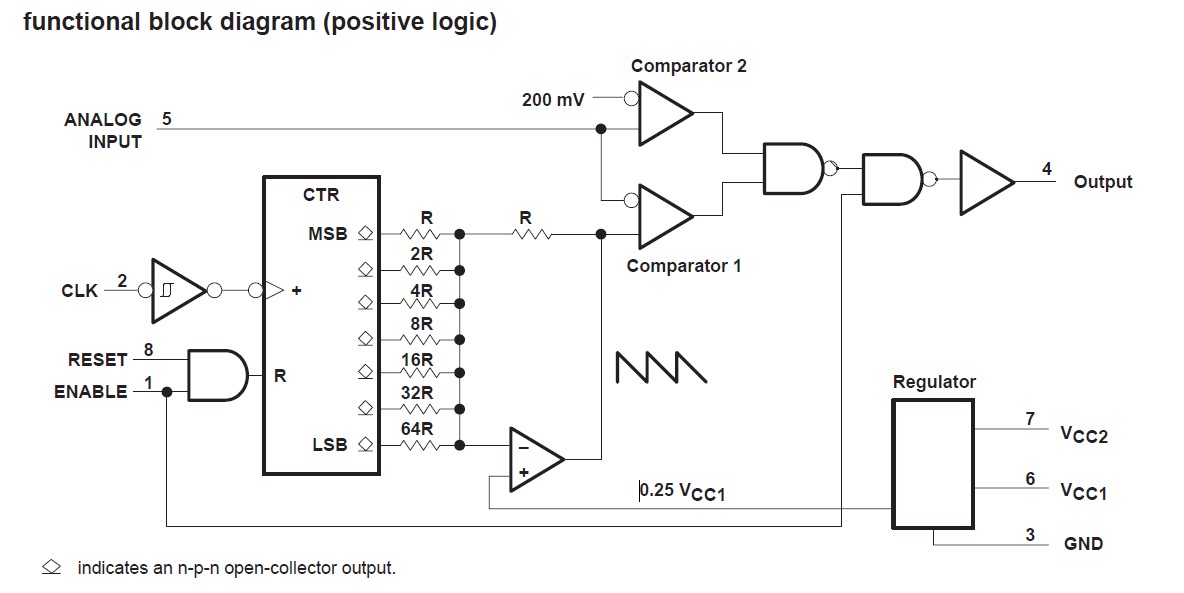 TL500

B&K Precision

Test Accessories - Other HP BENCH DMM ACCESSORY KIT

Data Sheet

Negotiable

TL5000

Other



Data Sheet

Negotiable

TL5000VCJ

Other



Data Sheet

Negotiable

TL5000VLJ

Other



Data Sheet

Negotiable

TL5001

Altech

LED Lighting Fixtures TowerLight, 50mm Short Base, Plastic

Data Sheet



| | |
| --- | --- |
| 0-1: | $24.10 |
| 1-10: | $22.90 |
| 10-25: | $21.75 |
| 25-50: | $20.66 |


TL50012

TDK-Lambda

Linear and Switching Power Supplies 480W 12V 40A

Data Sheet